Ti-Research CAST Tabletop Centrifugal Casting Machine - TC087
Brand: Ti-Research
Subtotal:
£2,500.00
Price:
£2,500.00

+ VAT if applicable
Quantity discounts
1 (£2,500.00)
2+ (£2,375.00)
10+ (£2,250.00)
---
SKU: TC087
Packaged weight: 11.70kg
This is the new revolutionary "CAST" centifugal casting machine manufactured in Germany by Ti-Research.
Used in dental laboratories and casting houses worldwide, this new "CAST" centrifuge has revolutionalised casting. 
From one off casting to manufacturing chain links or rings, this new "CAST" centrifuge enables you to cast in all metals and including Platinum.
Because this machine does not have the traditional thick centre sprue, you can cast in Platinum without the metal cooling down which can cause porosity also reduces your metal consuption by up to 50%!! The metal only travels 10mm from the crucible which is hinged on top of the unit, to the casting flask. This keeps the metal hotter allowing for a guaranteed fault free cast. 
When the molten metal is tipped into the "CAST" centrifuge, the flask is already rotating at a nominal speed of 930rpm, whereas traditional centrifuges go from a standing start. 
You are able
to cast up to 450 grams of gold, platinum, silver or other alloys.
CE MARKED (Made in Germany)
Cast and Cast/T devices meet all CE requirements and applicable safety standards and are TUV-GS certified by TUV Product Service.
All accessories required for a safe operation are included in the basic accessory set:
1 x Crucible holder
1 x Crucible L (max. 250g Gold)
1 x Crucible M (max. 150g Gold)
1 x Mould base
1 x Metal ring 60mm
5 x Wax disks
1 x Mould pliers
1 x Set of tools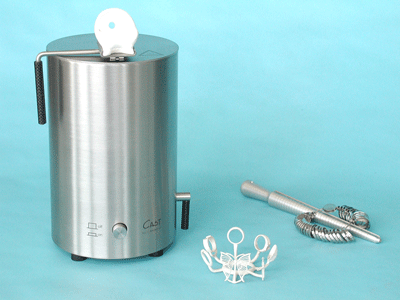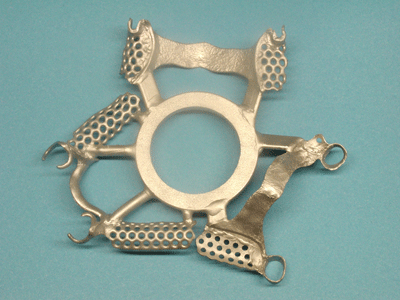 Related products