Gravograph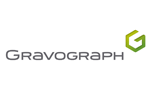 Gravograph has been the global benchmark for mechanical and laser engraving for more than 75 years.
Gravograph draws its strength from the Gravotech group, its teams and its network. With a presence in more than 100 countries and a good proximity to our clients, our brand supports you in your day-to-day work thanks to a comprehensive range of solutions with equipment and accessories, dedicated software, consumables and related services.
As a UK distributor H.S.Walsh carry excellent stocks of Gravagraph products from inside & outside ring engraving machines to computerised engraving systems, if you can't find what you require listed please contact [email protected].
displaying:
2 results